Grampian Kart Club hosts opening round of Scottish Super Series
---
Published: 12:00, 10 May 2022
---
Easier access to your trusted, local news. Subscribe to a digital package and support local news publishing.
---
---
Grampian Kart Club hosted the first round of the Scottish Super Series at the Boyndie Drome circuit on Sunday.
It is a four-round championship which will also visit Crail, Golspie and Larkhall.
There was a strong entry of 84 drivers over seven classes. The feature trophies were the Andrew Borton Memorial Quaich for gearbox drivers, which was won by Neil MacLennan from Tore, and the Kenny Mackay Shield for the best performing Grampian Kart Club driver in Cadet, Mini Max and Junior Max classes, which was won by Ryan White from Aberdeen. Four class lap records were broken during the day.
In the Bambino section seven drivers took to the track for their four timed heats. On points Lewis Kirkaldy came out on top with Cooper Earsman second and Sorren Gallagher third. Fourth was Amelia Dalziel followed by Bruno Simonelli, Luca Bicocchi and Seonaid Macphail. Earsman broke his own lap record in heat one to 51.469 seconds.
The large grid of 23 Honda Cadets took to the grid to battle it out in the final. Ryan White led away from pole position closely followed by Euan House, Zane Sword, Leo Massie, Calvin Moffat and Josh Cormack.
House had a brief spell leading on lap five but White was back in front a lap later. White took the victory with House on his bumper.
Sword headed a group of five drivers covered by a second and he came in third followed by Cormack, Moffat, Bella Brown and Leo Massie. The novice trophy went to Amaya Thomson from Max Taddei.
Gallery1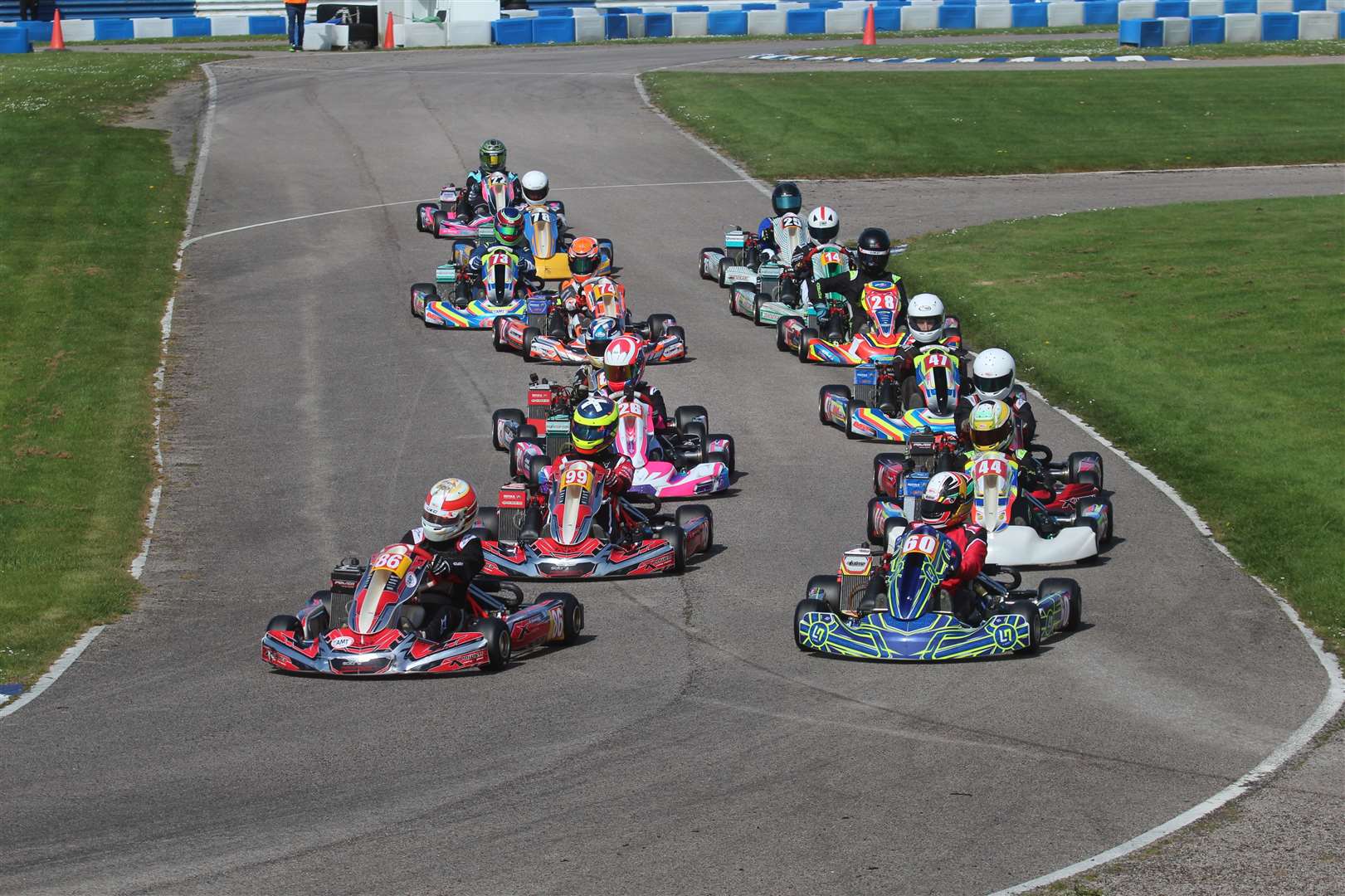 In the Mini Max section final Alexander Duffie took a lights to flag victory but it was not easy. Alexander Reid was on his bumper for all the 17 laps and a tenth of a second separated the pair over the line.
Matteo Palazzo initially was third but lost the position to Aiden MacDonald on lap eight. However, Palazzo regained the position near the end to take third podium spot.
MacDonald took fourth from Charlie Kelso in fifth and Duncan Ingram in sixth. Ingram broke the class lap record in heat two to 38.414 seconds. Rachel Turnbull snatched the novice trophy at the last corner from William Brazier.
In the Senior Max 162kg class final Jack Gordon, Les Taylor, and John Knox made the best starts. Knox began to drop off the leading pair and Gordon and Taylor swapped the lead many times.
Chris Miller, Keiran Smart, Reece Duthie, Jonathan Edwards also took up the chase. Smart moved up on lap six and was closing in on Knox and on lap 13 he passed him and took third.
At the front Gordon and Taylor were battling for the lead and as a result the pace slowed. This allowed Smart to close the gap.
Gordon defended over the last few laps to take the victory by less than a tenth of a second from Taylor. Smart took third eight tenths back and fourth was Duthie followed by Edwards and Napier. Jack Gordon lowered the class record to 36.073 seconds.
In the Senior Max 177kg final Jamie Mackay got the best start from Robert Strachan, Gary Scott and Jay Mackay. Strachan soon took the lead and pulled away.
The race got spread out and Jay Mackay retired on lap 11. Strachan took the win followed by Jamie Mackay and Scott. Robert Strachan lowered his own lap record to 37.024 seconds.
In the Junior Max class final Craig Stephen took the lead when the red lights went out. Next up was Max Taylor, Rhys Baillie, Kyle Cruickshanks, Eihli Smith and Jack Glen.
Baillie moved to second on lap two. Stephen had established a gap but the second pair were closing on him.
With Taylor retaking second on lap 11, Baillie took the both of them for the lead a lap later.
On the track Baillie took the chequered flag followed by Taylor and Stephen. However, in scrutineering Baillie was awarded a five-second penalty for a dropped nose cone which put him down to fourth.
Therefore Taylor was awarded the victory with Stephen second and Smith third. Alex Hawcutt was fifth and Jack Glen was sixth. Matilda Brazier took the novice trophy from Sam Arcari.
In the KZ2 UK (Gearbox) final Gary Williams got the best start over pole man Neil Maclennan when the lights went out in the 10-minute final.
The pair broke free from the rest of the pack and Maclennan was trying hard to pass but Williams resisted every attempt.
However, on the 10th lap both were late on the brakes at the end of Boyndie Straight and Maclennan slide to the inside and through.
Initially Williams dropped back but took up the attack and pressured Maclennan to the chequered flag. On the run down lap the pair shook hands.
Meantime, Alex Mackay was running in third until his engine temperature rocketed, due to the water pump belt coming off, and had to retire.
Ryan Simpson filled the position and took the final podium step. Chris Walker was a tenth back in fourth.
Results
Bambinos
1 Lewis Kirkaldy (St Andrews); 2 Cooper Earsman (Whitehills); 3 Sorren Gallagher (Mull).
Honda Cadets
1 Ryan White (Aberdeen); 2 Euan House (Dumblane); 3 Zane Sword (Dundee). Novice: Amaya Thomson (Prestonpans).
Mini Max
1 Alexander Duffie (Bathgate); 2 Alexander Reid (Stirling); 3 Charlie Kelso (Kelty). Novice: Rachel Turnbull (Inverness).
Senior Max 162 kg
1 Jack Gordon (Whiterashes); 2 Les Taylor (New Leeds); 3 Keiran Smart (Oldmeldrum).
Senior Max 177 kg
1 Robert Strachan (Turriff); 2 Jamie Mackay (Halkirk); 3 Gary Scott (Elgin). Novice: Gary Scott (Elgin).
Junior Max
1 Max Taylor (New Leeds); 2 Craig Stephen (Elgin); 3 Eihli Smith (Westhill). Novice – Matilda Brazier (Newmachar)
KZ2 UK (Gearbox)
1 Neil Maclennan (Tore); 2 Gary Williams (Ellon); 3 Ryan Simpson (Banff).
Andrew Borton Memorial Quaich
Neil MacLennan (Tore).
Kenny McKay Shield
Ryan White (Aberdeen).
The trophies were presented by competition secretary Dorothy Wyness.
The next meeting is the third round of the Boyndie Drome Open Challenge on Sunday, June 12.
For more information visit www.grampiankartclub.com or the club's Facebook page.
---
Do you want to respond to this article? If so, click here to submit your thoughts and they may be published in print.
---
---
---