PICTURES: Exhibition celebrating fashion design legend Dame Zandra Rhodes opens in Aberdeen Art Gallery
---
Published: 10:15, 27 November 2021
---
Easier access to your trusted, local news. Subscribe to a digital package and support local news publishing.
---
---
The largest exhibition dedicated to legendary British fashion designer Dame Zandra Rhodes has opened at Aberdeen Art Gallery.
The north-east venue is the first to feature 50 Years of Fabulous outside of London and will give people in the area an insight into the creative process of Rhodes and what inspires her.
Organised by the Fashion and Textile Museum in London, where the exhibition premiered in 2019/2020, the comprehensive retrospective considers 50 years of a fascinating and varied career, presenting influential looks, original textiles and archive material from the designer.
Her unique use of bold prints, feminine and recognisable patterns and theatrical colour palettes have sealed her place in design history, while her pink hair, statement make-up and wearable art jewellery continue to stamp her personal identity on the international world of fashion.
The exhibition presents 50 looks – one from each year of Rhodes' career: from a 1969 ankle length kaftan, screen-printed in silk chiffon, to a 2021 kaftan in recycled polyester, part of the designer's KARISMATISK collaboration with IKEA.
In the exhibition gallery, a central multi-tiered plinth in the designer's signature hot pink colour presents more than 25 eye-catching ensembles.
Elsewhere in the exhibition individual golden plinths highlight pieces from the designer's early years, highlighting signature motifs and styles that recur and evolve throughout her career.
A chiffon forest of almost 30 hand-designed, screen-printed textiles hangs in rows, filling part of the exhibition space from floor to ceiling, allowing visitors to get up close to original versions of some of the designer's most renowned prints from throughout her career.
Also on display is a collection of her original drawings, alongside larger than life reproductions of her illustrations.
Rhodes is a constant creator, using her sketches of daily life to create her prints, which in turn inform her garments. The rare examples on display in Aberdeen offer new insight into a design process that has remained largely unchanged across the last 50 years.
Additional key pieces on show include A/W 1972's Shell Collection silk chiffon gown, still produced today for Matches; examples of A/W 1981's Gold Renaissance collection, looks from which were featured in the Metropolitan Museum of Art's 2019 exhibition Camp: Notes on Fashion; 1976-77's highly influential, punk-inspired Conceptual Chic and the quilted calico coat from 1969's Ukraine and Chevron Shawl collection.
Further must-see pieces include examples of designs worn by some of the biggest names in royalty and rock and roll including Diana, Princess of Wales, Freddie Mercury, Elizabeth Taylor, Kate Moss and HRH Princess Michael of Kent.
Gallery1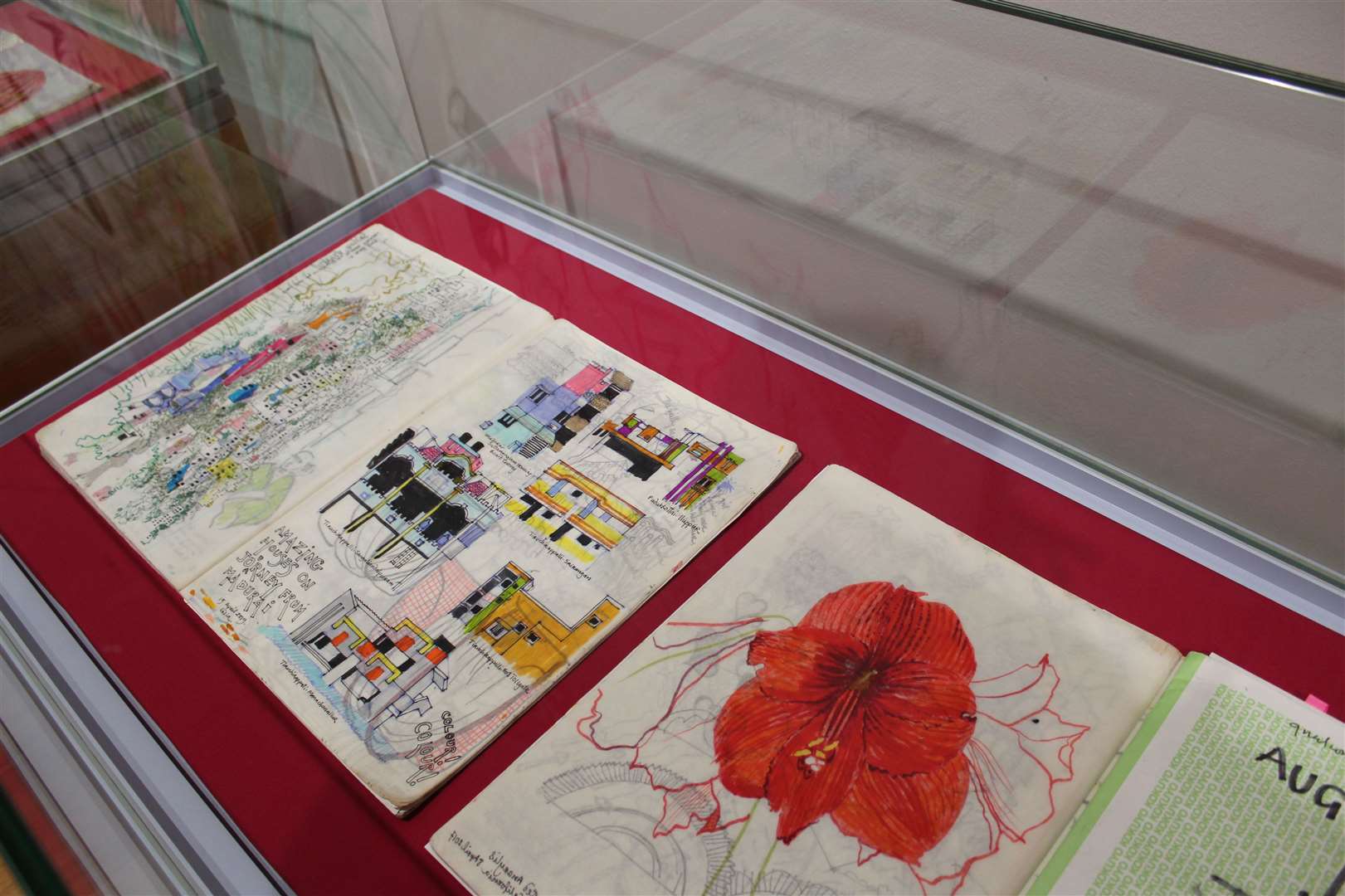 Dame Zandra Rhodes said: "I'm really delighted that 50 Years of Fabulous is finally opening in Aberdeen after it had to be postponed in 2020 due to the Covid-19 pandemic.
"I worked closely with the team at London's Fashion and Textile Museum on the development of the exhibition, and I feel that it beautifully represents my love of textiles and constant creativity.
"There's a wonderful range of garments and fabrics on display, and I'm also excited to share some of my drawings and sketchbooks.
"I still draw every single day and I hope that visitors to the exhibition will get an insight into my creative process and what inspires me."
Collections and conservation officer at the Fashion and Textile Museum in London Gill Cochrane said: "The exhibition was initially supposed to be here last year but we were scuppered by the pandemic. It is fantastic to see it finally up, we've waited a long time.
"All of the mannequin garments represent one year in Dame Zandra Rhodes' career.
"We also have a selection of textiles in the chiffon forest which is a really nice way to display her different designs because she is first and foremost a textile designer.
"Additionally, we have her textbooks. She's a prolific sketcher and draws every single day. We are very lucky to have several of her sketchbooks and some enlargements of them.
"And we also have some of the costumes that she designed for stage wear. She's a very flamboyant person and working with stage costumes is something that really speaks to her.
"She has designed for three different operas, stage clothes for Freddie Mercury and Brian May from Queen; and we have Barbara Streisand's outfit here as well.
"It is such a fantastic space, the gallery is beautiful and it is a great setting to show these items off."
Councillor Marie Boulton, culture spokeswoman, said: "It is the first time it has been out of London and it is a great coup for the north-east.
"It is another amazing exhibition for the art gallery just in time for Christmas and it is something really spectacular for people to come and look at.
"What we've tried to do is have a variety of shows, so we are appealing to as wide an audience as possible."
---
Do you want to respond to this article? If so, click here to submit your thoughts and they may be published in print.
---
---
---