Keith piper Ewen Brindle brings joy to residents at Glenisla Care Home
---
Published: 10:35, 07 April 2020
| Updated: 10:36, 07 April 2020
---
Contribute to support quality local journalism
---
---
A BAGPIPER delighted residents and staff at a Keith care home as part of a UK-wide show of thanks aimed at NHS and other key workers.

At 8pm last Thursday, Ewen Brindle (23) played the pipes outside Glenisla Care Home as residents and carers clapped along from behind its windows.
At the same time each week, people across the UK are saluting NHS staff and key workers dealing with the coronavirus pandemic by stopping what they are doing and applauding.
Mr Brindle, a music teacher at Buckie High School, joined in by serenading the staff at the home.
He said: "I was planning on piping outside my front door, but my mum is shift leader at Glenisla Care Home and invited me up to the home to give the residents a few tunes.
"It would have been nice doing it at my front door, but having the residents feeling the benefit was better.

"Families of residents also came up and it was a nice feeling to have a bigger audience, and play for people who really appreciated it.
"The residents were all waving and seemed happy."
WATCH: Below, and via this link, Ewen playing to the care home's residents.
As the clapping for key workers is turning into a weekly occurrence, Ewen said he would probably return to the home again.
He added: "It is probably something I will do again, whether it's just a couple of times a month or more often.
"I will probably go up to the home on another occasion."
Gallery1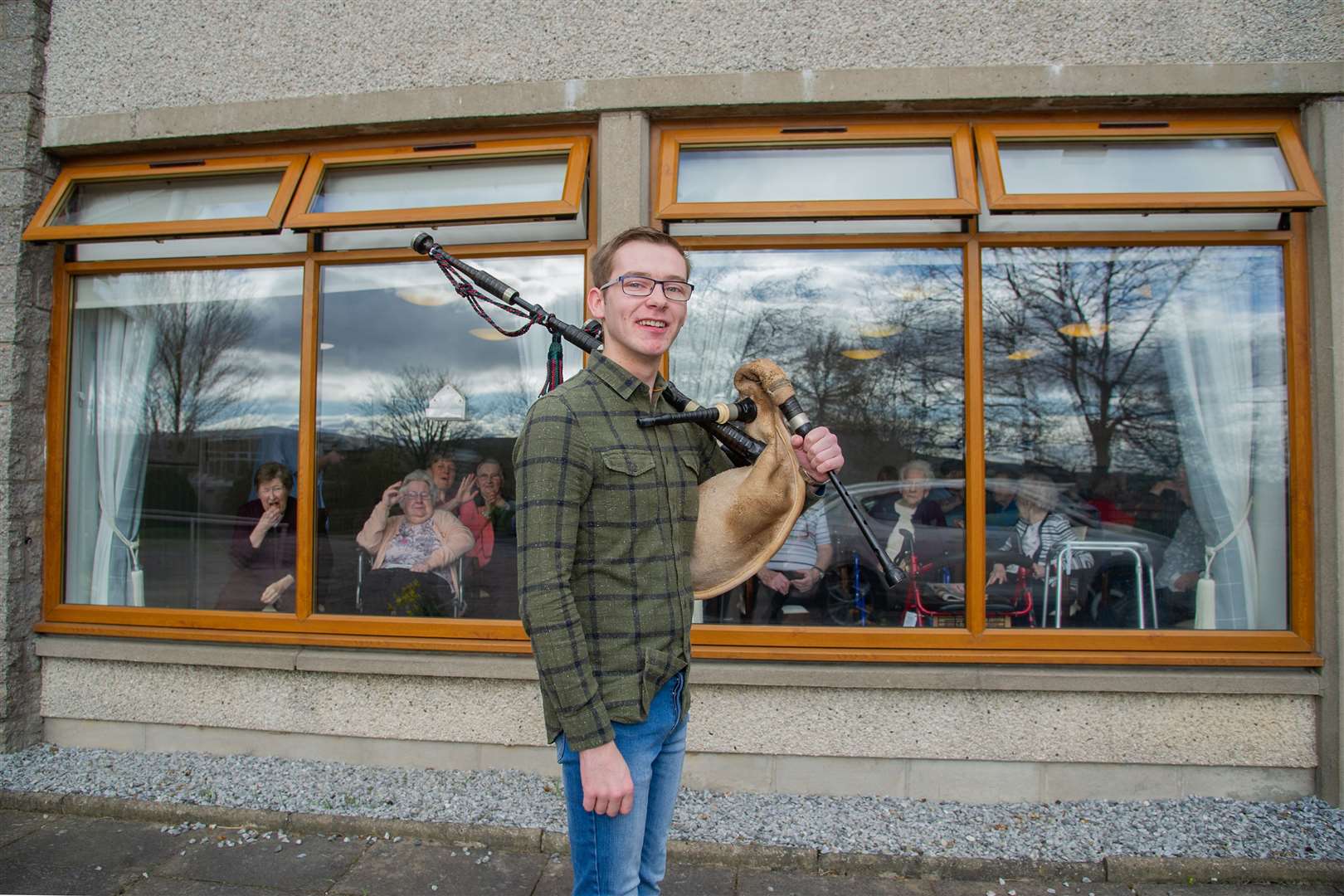 Ewen plays in the Buchan Pipe Band which is not practising or competing at the moment due to the lockdown.
The former Keith Grammar School pupil added: "I'm trying to do things for the community.
"I had a tune out the back last week and got a few neighbours out, so they enjoyed that. It means a huge amount to people.
"However, things are not great piping-wise. Buchan are a Grade Two champion band but because of the lockdown, we have had four or five championships cancelled."
Elsewhere, Strathisla Pipe Band posted a series of videos online of their pipers playing around the local area at 8pm on Thursday.
Keith Morrison, who works at Roseisle Distillery, took a break at 8pm to play the pipes.
---
This website is powered by the generosity of readers like you.
Please donate what you can afford to help us keep our communities informed.
BECOME A SUPPORTER
In these testing times, your support is more important than ever. Thank you.
---
---